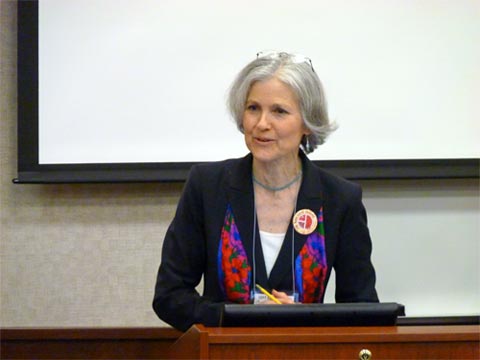 I meant for this to be a hatchet job — with the silver noggin of Jill Stein, the Green Party nominee for president of the United States, on the butcher block. Not for the reasons you might think, though. Unlike so many fellow lefties who blame Ralph Nader and the Greens for swinging the 2000 election toward evil, the only hostility that I ever harbored was for people who are trite enough to believe such nonsense. If Al Gore couldn't beat George W. Bush, then that's the fault of the Democrats — or perhaps the conservatives on the Supreme Court who fixed the outcome — not the fault of the third-party third-place finisher.
In considering a Stein hit piece, rather, my thought was that the 62-year-old doctor from suburban Massachusetts was hardly the ideal figurehead for a newly activated left running on anti-capitalist outrage. I could easily rationalize someone more outspoken, famous, or tattooed — say, Janeane Garofalo, Tom Morello, or even Roseanne Barr, the latter of whom vied for the Green nomination but is now topping the Peace and Freedom party ticket. But a former Lexington Town Committee member like Stein? I needed some convincing.
Despite my initial prejudices, it took just one read through Stein's "Green New Deal for America" to flip me into a wholehearted endorser. That's how this turned from a hatchet job into a mash note — probably one of the only Jill Stein puff pieces you'll ever read. But hell, it's necessary — someone has to call attention to how Stein stands apart from the pack. While big-tent sleazeballs gorge on loot from predatory lenders, for example, she calls for restoring the Glass-Steagall separation of commercial and investment banks. As for extra bona fides, the doctor has experience hitting Mitt Romney, having run against him for governor of Massachusetts 10 years ago. Sure, she lost, badly — but not before she used her debate platform to condemn "tax loopholes for the wealthiest five percent," and to contend that financiers have no place in public office. In other words: Stein has spent the past decade hammering inequities that the increasingly broke public claims it wants corrected.
Presidentially speaking, Stein is no joke. She's a highly intelligent and experienced organizer, not to mention a Harvard alum, like her big-party opponents. Among other sensible ideas, Stein wants to abolish the Electoral College, repeal the Patriot Act, and cut military spending in half — ideas that so-called progressives seem to wholeheartedly embrace in non-election years only. With that in mind, here's a conscience call to anyone who has enough courage to put their ballot — and perhaps their volunteer time — where their mouth is.
THE 99 PERCENT
Like most activists who enter the electoral ring, Stein has a history of being appalled by local policies. Her moment of truth came roughly 15 years ago, when she began to impugn political negligence in shielding children from a range of dangers like pollution and food additives. Those offensives led to her co-authoring a book on child development and efforts to advance statewide campaign-finance reforms through a 1998 ballot initiative (only to see legislators repeal the will of voters). So when the Green Party recruited her for a 2002 gubernatorial run, she accepted.
"I had never been a member of any political party," says Stein. "I've always thought that the whole process was simply too corrupt to be a part of. After working on campaign-finance reform, though, it became clear that we couldn't fix the fundamental problem of money in politics until we changed the corrupt political culture with a whole new vehicle."
In normal politics, you run for local office and win, then run for statewide office and win, and then — your cred established — you might entertain a bid for the White House. This being alternative politics, the model's different: you run for governor, lose, run for legislature, lose, run for municipal office, win, and then run for president.
This time around, Stein is motivated by reasons that are similar to what spurred her run for governor in 2002, and for state representative and secretary of state after that. As a doctor who speaks healthcare fluently, she was alarmed by Obama jeopardizing Medicare and Social Security through compromise with free-market conservatives. In July of last year, Stein became involved with the national Green Party, but only to help field a presidential candidate — not to become one.
Things soon changed, especially after the onset of Occupy Wall Street and its tangential outposts. Within weeks of the movement kicking off on September 17, Stein began visiting what would eventually be more than 25 protest camps nationwide. Even after officially announcing her candidacy in late October, however, she didn't ask for backing from Occupiers. Instead, Stein says, she offered her support.
"Occupy is incapable of being harnessed," says Stein. The candidate was invited by Occupy organizers to speak at a massive student-debt rally in Union Square, and was even arrested on August 1 in Philadelphia for protesting Fannie Mae alongside foreclosure victims. How's that for cred? She continues: "Occupiers have seen that it's not only the electoral system that's rigged — it's every mode of political action. We can't afford to give the predators a pass anywhere. To only work outside of the system is to see everything you've worked for destroyed by the pressure of the voting booth. I've found over and over again that Occupiers are on board with that approach."
THE 15 PERCENT
Despite obvious impediments like their lack of cash and power, Stein and her running mate, anti-poverty advocate Cheri Honkala, are on a relative winning streak. The Green Party has secured federal campaign matching funds — its first time ever doing so in a national race. They're also on the ballot in 24 states, with that number expected to exceed the 40-state mark by election time.
Optimism aside, Stein has more than a few obvious obstacles to getting her agenda heard. Like the other serious third-party candidate, Libertarian Gary Johnson, she's left out of most polls, yet won't be invited to participate in the debates unless she garners more than 15 percent in those surveys. According to UMASS-Amherst political science professor Ray La Raja, Stein faces more than just a stacked deck. Unless America is struck by an environmental catastrophe between now and November, he says most people will ignore the Green voice. "[Romney and Obama] are so different and the stakes are so high," says La Raja, "that people are going to be compelled to vote for one of the two major parties." 
Finally, there's my initial concern — that Stein lacks the gusto to channel so much Occupy and activist intensity. It's one shared by others including Grace Ross, a former Green-Rainbow candidate for governor who is now a registered Democrat. "A charismatic, strong-willed populist might begin to light a flame with all of that timber underneath the electorate," says Ross, "but my sense about Jill is that she's not a really outgoing person. For a party that doesn't have an activist in every precinct, you need someone to be out touching hands at every opportunity possible."
Listening to the candidate, though, as she crisscrosses the country on a shoestring budget, it seems that Stein has the chops to strike a match under at least one or two asses. "We need to replace the politics of fear with the politics of courage," she says. "We are the one option for doing that. This is a historical moment, and we can turn that breaking point into a tipping point, but only if we stand up for it, so hold on for your hat."
 This article originally appeared in The Boston Phoenix
Do you like this post?